All activities are subject to New Zealand Covid-19 requirements and the Kingdom of Lochac Covid-19 Response Plan.
August 25-27  2023
Darton Anniversary
Darton Anniversary is on the weekend of 25-27 August this year, at the traditional venue at the Brookfield Outdoor Education Center, 562 Moores Valley Road, Wainuiomata, Lower Hutt 5373, New Zealand.
Darton Anniversary is an end of winter event, so the focus is on staying warm, eating good food, and hanging out with our friends. There will be a feast on Saturday night, with Shire Champion tournaments in archery, rapier, and rattan held as weather permits. Other activities are dependent on volunteer organisers. If you want to organise an activity at Darton Anniversary, please contact the steward (Miles Warde/Dillon Burke at grand.vizier@gmail.com).
Bookings
Send all booking inquiries and requests for information to Dillon Burke
grand.vizier@gmail.com
. When booking, please include:
The real name and SCA name (if any) for all people you are booking for.
Whether or not you are an SCA member.
The ages of anyone under 18.
The days you want to attend (or say "event" or "weekend" for the whole event)
Whether you are day tripping or staying on site overnight. If staying on site, please indicate if you need a bunk room or tent space (we will assume bunk room if not specified).
Please include any allergy/diet information.
Note: the Steward will be in the USA 29 July to 14 August. Emails will be checked most days.
Price: SCA Member $125, adult non-member $127, non-member aged 13-17 $125, Child aged 6-12 $62, children under 5 free. Discounts available for people not staying on site or just day-tripping.
Bank Deposits Payable To: SCA (NZ) - SHIRE OF DARTON 38-9016-0732434-00. Please include a name we can identify you by when making a booking.
Bookings Close Friday 18 August.
Allergies
This is a fully catered event. If you have any allergies or other important dietary information, please include that information in your booking to be passed on to the cooks.
Activities at Darton Anniversary
The King and Queen of Lochac are planing to attend the event. Court is currently scheduled for Saturday, before the start of the feast. If you would like to volunteer to attend their majesties, please contact the steward.
If you wish to volunteer to organise an activity, A&S class, or other bit of proposed medieval fun, please contact the steward so that we can get you on the event timetable.
Current Schedule of Events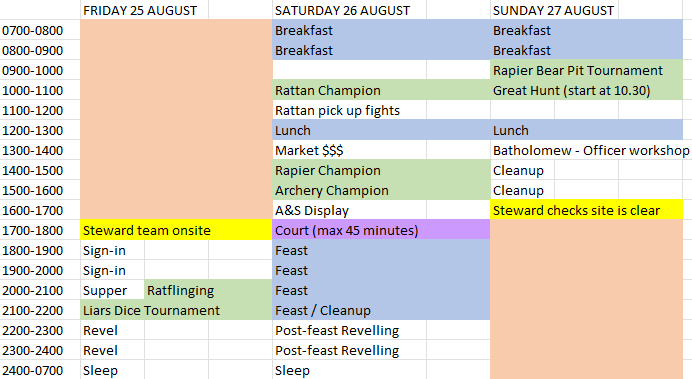 Covid Precautions
Darton Shire has purchased two air purifiers. These will be placed inside the main hall we are using.
If you are feeling unwell, please stay at home. A full refund will be issued if you have to cancel because of sickness.